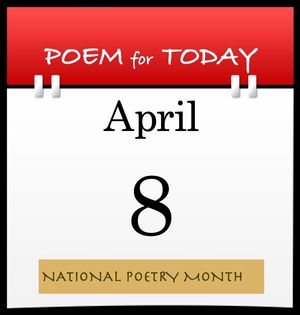 Celebrating National Poetry Month.
William Carlos Williams said: 
                     "It is difficult 
                      to get the news from poems 
                      yet men die miserably every day 
                      for lack 
                      of what is found there." 
What can be found in a poem? Mary Oliver's poems can teach an appreciation of nature. Billy Collins can make us laugh. Theodore Roethke can provide a map for the difficult, inner journey. Denise Levertov can help us negotiate the difficulties of problematic families. 
In my experience, a poem can also serve as a reminder, an incantation against procrastination for example. A poem can act as a shield against the use of mundane tasks to avoid more important, but difficult work. Today's poem, written 24 years ago, continues to serve that function for me. 
Have you read or written a poem in your life that has served you over time, one you return to as an important reminder? 
Today 
I'm not going to wash dishes today, 
I'm not going to sweep or dust 
or pick up after the children. 
Today I am going to attend to other matters, 
matters far more dusty and neglected. 
I'm not going to run errands, 
I'm not going to pay bills, go to the bank, 
or balance the checkbook. 
Today, I'm going to attend to other matters, 
matters far more out of balance. 
I am not going to answer the phone today, 
turn on the TV, or listen to the radio. 
Today, I am going to listen to smaller sounds, 
those that call softly from beneath the 
murky, dark surface of this daily drudgery. 
Today I am going to do the other work, 
the truly important work. 
Today, I will stand against those forces 
that conspire to condemn me to routine 
and I will not yield. 
This time, they will have to wait 
until tomorrow.
Click below to hear me read the poem "Today."
See  you tomorrow!