Yesterday, I suggested that writing a poem can commemorate an experience such that you can return to it again and again. In fact, some deeply felt experiences are difficult, if not impossible, to describe in a language other than the image and metaphor- based language of poetry.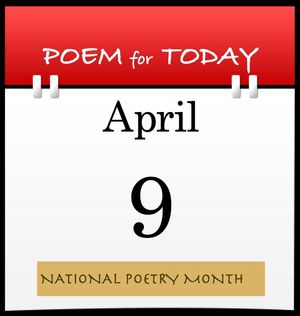 Today's poem from "Raised in the Shadow," attempts to speak that language in order to commemorate an experience that I'm guessing many of you have also had. I'm talking about that instant when you suddenly and spontaneously drop out of time into the limitless glory of the present moment, a moment when everything comes alive and all time-bound worldly concerns fall away. 
Enjoy poem #3 in our celebration of National Poetry Month! 
                                In the Present, Suddenly 
                                 Your head is cradled in 
                                    the crook of my arm, 
                           your deep, slow breathing soft 
                             against the drip of the rain. 
                           Outside, the sound of a car 
                               on the wet pavement 
                           propels me into the moment: 
                       A white doorframe stands suddenly 
                               against the ochre wall. 
                           Sounds are detached, smaller. 
                          You stretch across the pillow, 
                             your back arched cat-like. 
                            I want only to remain here, 
                              moving in cognizance 
                        through this eternal moment. 
                   But I know the truth of it all too well: 
                             Soon, I will be swept back 
                             into the rapids of the clock, 
                        This landscape of simple pleasure, 
                                 this delight of detail 
                                 will again rush by, 
                             blurred and peripheral. 
                                Yet, this morning, 
                                  this moment, 
                                       now, 
                                   I am here. 
                                 You are here 
                          and God is everywhere: 
                              in the lampshade 
                       and in the worn, brown carpet. 
Poetry has changed my life--- maybe it has had (will have?) that effect on you! Consider taking the time to read a few poems every day. It's a sure-fire antidote to the new 60-second TikTok mentality.  
Click below to hear me read today's poem and I hope it inspires you find another poem or two to sprinkle into your day. 
See you tomorrow!