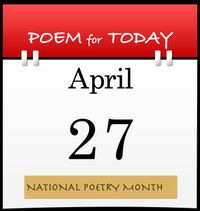 I wrote "Raised in the Shadow" in 1997 and it sold out twice before I stopped reprinting it. At the time, I was single-mindedly focused on being a songwriter, so the successes of my work in poetry didn't impress me much and I let that book and the poetry in my life fall by the wayside.
Today's poem speaks to how a single-minded desire to be a successful songwriter may have blinded me to other possibilities that had come knocking. What opportunities have presented themselves to you that you may have ignored or missed because you were looking in another direction?
Wanting
You can want something
so much, so long, so badly,
when it finally comes to your door
you mistake it for a beggar and
send it away.
The wanting has become
the end in and of itself,
a mask, rendering unrecognizable
the true nature of your desire.
Throw off your wanting and
you will see clearly these gifts
that come to visit you.
Admit them all!
Lavish them with gratitude!
*Note: If you don't want to get these emails in April for National Poetry Month, but don't want to unsubscribe, just reply to this email with no text and I'll remove you.       
Click below to hear me read "Wanting."       
Happy National Poetry Month!      
hugs from Joshua Tree,      
rags