Hello friends. Here we are at Day 5 of our celebration of National Poetry Month!
Do you have a vision of yourself living a different life? Simpler, more peaceful, perhaps? Do you ever see that life in your mind's eye? How does it feel when you close your eyes and imagine yourself into that life, into that person you've always wanted to be? 
A poem can be a vessel for that vision. I created one 24 years ago and it is today's poem from "Raised in the Shadow." The life it describes still thrills me. I'm not there yet, but I'm damn close. 
Maybe a poem full of intention, once written, flies off like a red balloon into the summer sky and waits for you to catch up to it, somewhere down the road. 
Enjoy poem #5 in our celebration of National Poetry Month!
                       Where I Am Going 
                            Once again, 
                  clutter has claimed victory. 
         The days have become unmanageable; 
         Small pieces of life are breaking off and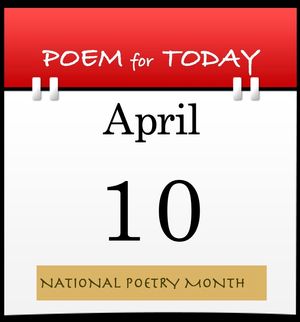 slipping through the cracks, 
                           lost forever; 
           
              Appointments are forgotten and 
                        keys misplaced; 
            My firm resolve to aspire to the simple 
              echoes now like a distant cannon 
         firing the first shot of a battle already lost. 

          The hopeful young soldiers of organization 
                armed with the best of intention 
                were not overwhelmed quickly,
             But overcome instead by attrition. 
        They were not defeated in a frontal assault, 
                   but rather by a creeping 
             accumulation of camouflaged detail 
                        noticed too late: 

                too many dishes  in the sink, 
                  no time to make the bed, 
             too many impossible places to be, 
                       too far to travel 
                      in too little time 
              and, finally, a checking account 
                   beyond reconciliation. 

               I know the simple life I long for 
                       is within my grasp; 
                      It lies dead ahead, 
            just beyond this complexity of habit, 
             just over this hill of accumulation; 
                 When I have the strength 
                        I will regroup, 
               consolidate, eliminate, re-think. 
                   I will have a garage sale;
  
               I will sacrifice everything but 
                a small Oriental rug on the 
                    polished maple floor, 
                  a small oak writing desk 
                   by the east window, 
              A vase on the mantle with flowers 
                      cut fresh daily 
               from my small but spirited garden;
 
                 I will make the hard choices; 
                 I will undress piece by piece 
                      until I am naked, 
                   until there is nothing left 
                    for the enemy to take. 
                   I will count the hours on 
                    small Tibetan bells, 
            keep a cupboard with tea and rice; 
               I will keep fresh fruit on the 
                        breakfast table
 
        and watch the morning light wash through 
                my home unobstructed. 
               I will walk a simple path, 
                  unadorned except by 
                 life's own sweet grace. 

Poetry has changed my life--- maybe it's had (will have?) that effect on you! Consider taking the time to read (or write!) a poem today. Give your imagination full reign and see where it wants to go. If you do, please feel free to share it here in the comment section. 
Click below to hear me read today's poem and I hope it inspires you as it continues to inspire me.
See you tomorrow!