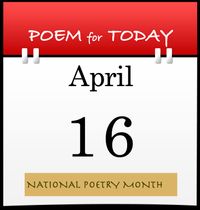 I'm continuing to post a poem every day in celebration of National Poetry Month. Today's poem is "The Way I Love You," the closing poem in "Raised in the Shadow" and perhaps the most hopeful poem in that 24 year old collection. 
Folksinger John Prine sings, "Love has no mind / It can't spell unkind /  It's never seen a heart shaped like a Valentine."
The poet Billy Collins says,
"This is the best kind of love, I thought, 
without recompense, without gifts, 
or unkind words, without suspicion, 
or silence on the telephone."
Love like that is difficult, but the only kind worth having.
The Way I Love You
The most difficult thing
is to love without claim,
to trust without owning,
to give up the safety of preconception.
If we are lucky, those whom we love
will never be who we imagine
or want. They will never
do as we expect.
The soul, too virile to be
contained by our simple
expectations, commands
its own unique destiny.
We can never know the people
we love. Their truth is far more
glorious and alive than
we could ever invent.
Rather,
we love by allowing something
uncontrollable to unfold,
and those willing to travel
bravely along that vibrant edge,
if only for the briefest moment,
Can never love any other way again.

 
*Note: If you don't want to get these daily emails in April for National Poetry Month, but don't want to unsubscribe, just reply to this email with no text and I'll remove you.  
Click below to hear me read "The Way I Love You."  
Happy National Poetry Month and I'll see you tomorrow! 
hugs from Joshua Tree, 
rags