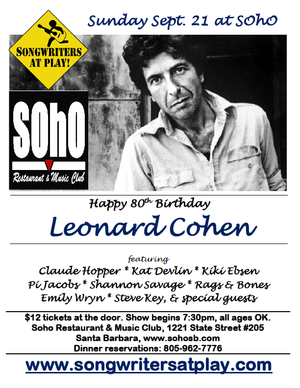 "If I knew where the good songs came from, I'd go there more often. It's a mysterious condition. It's much like the life of a Catholic nun. You're married to a mystery."      
         
-Leonard Cohen
September 21
is Leonard Cohen's birthday. He will be 80. I am thrilled and honored to be playing at two tribute shows this month. This Sunday I'll be at SOhO in Santa Barbara at 7:30 pm along with a fine group of my fellow singer-songwriters.
Each of us will perform two of his songs. I have chosen The Traitor and In My Secret Life, two songs which have a great deal of personal meaning for me.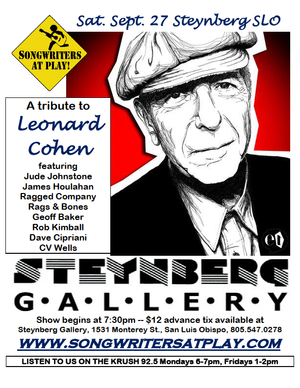 On
September 27
, I'll be performing at the Leonard Cohen tribute in San Luis Obispo. This will be at the 7:30 pm. at the Steynberg Gallery.  Many thanks to Steve Key and SONGWRITERS AT PLAY for organizing both of these important events! 
AND...
On
September 28
at 1pm I'll be sharing a stage with Cynthia Lin and the Blue Moon All Stars  along with other special guests to perform original material at the Sculpterra Winery. 5015 Linne Rd., Paso Robles, CA 93446. 805-226-8881 [
map
]. This is a free show. 
HOPE TO SEE YOU AT ONE OF THE SHOWS!