Hello Friends. Here we are at day six of our celebration of National Poetry Month with a poem from "Raised in the Shadow."
Tonight is the new moon. It's easy to forget that although we can't see it in tonight's dark sky, it's actually still there! The willingness to believe in the presence of something you can't see is one definition of faith and "Faith of the Moon" is the song in the background of my reading of today's poem, "The Moon" (That's my co-writer Keith Greeninger singing at the end).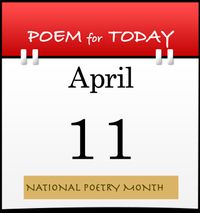 Dr. Catherine Sveha says: "This new moon rises in the sign of Aries. New moons are always an opportunity to begin something new. Seeds begin their lives in darkness and so do our ideas. Aries is the beginning of the astrological year, lending extra significance to the theme of beginning. Be bold!" 
The Moon
She is a lamp.
Her light is turned on deliberately
and shaded just so,
in a calculated effort to attract.
And in this way,
night after night,
she relies on the moth's
longing for incandescence 
to prove her own irresistability.
But you,
you are the moon!
Naked and true,
with nothing to prove.
The sun has chosen you,
and  you alone,
to reflect his brilliance.
What then do you need with moths?
Wolves and coyotes call to you,
lovers beg your favor,
poets invoke your name,
the seas rise and fall at your command

and I, on this journey through the night,
would surely lose my way
if it were not for your gentle light
illuminating my path.
Feel free to leave a comment about what intention you are setting or project you will start as this new lunar cycle begins and, in the words of Dr. Svehla, "Be bold!"
Click below to hear me read today's poem.
See you tomorrow!